The numbers matching 383 still has the original heads, block, pistons and stock cylinder bores. The motor was rebuilt & blueprinted back in 1993 with TRW bearings, HD rod bolts and HD Hemi oil pump. The engine was pulled again during the winter of 2002 for detailing and freshening.

The original '906 heads have been reworked with Mopar Performance valve springs & retainers. Ports on both sides were opened up to match the intake & exhaust manifolds. I'm still running the stock 10.1 compression ratio using VP 108-octane leaded fuel.
The camshaft is a .474 lift / 280 degree Mopar Performance Purple Shaft unit that has a great sound at idle. The original Chrysler Prestolite dual point distributor (Standard on 383 Darts) is still being used but enhanced with a Pertronix electronic unit inside. The intake is a vintage factory part numbered Edelbrock high rise with a 650 Street Demon carburetor in place of the stock Carter AVS.



The exhaust runs through original A-Body 383 manifolds with the driver side modified with a high flow Accurate unit. Awesome 2 1/2" "Max-Wedge" style head pipes, also from Accurate, are bolted to the above manifolds. Hemi type low restriction mufflers and chrome OEM exhaust tips finish the job out back.
Current gears are 3.91's with factory Sure Grip turning through a 2,500+ rpm stall speed converter. The motor runs strong all the way to the 6500 rpm redline.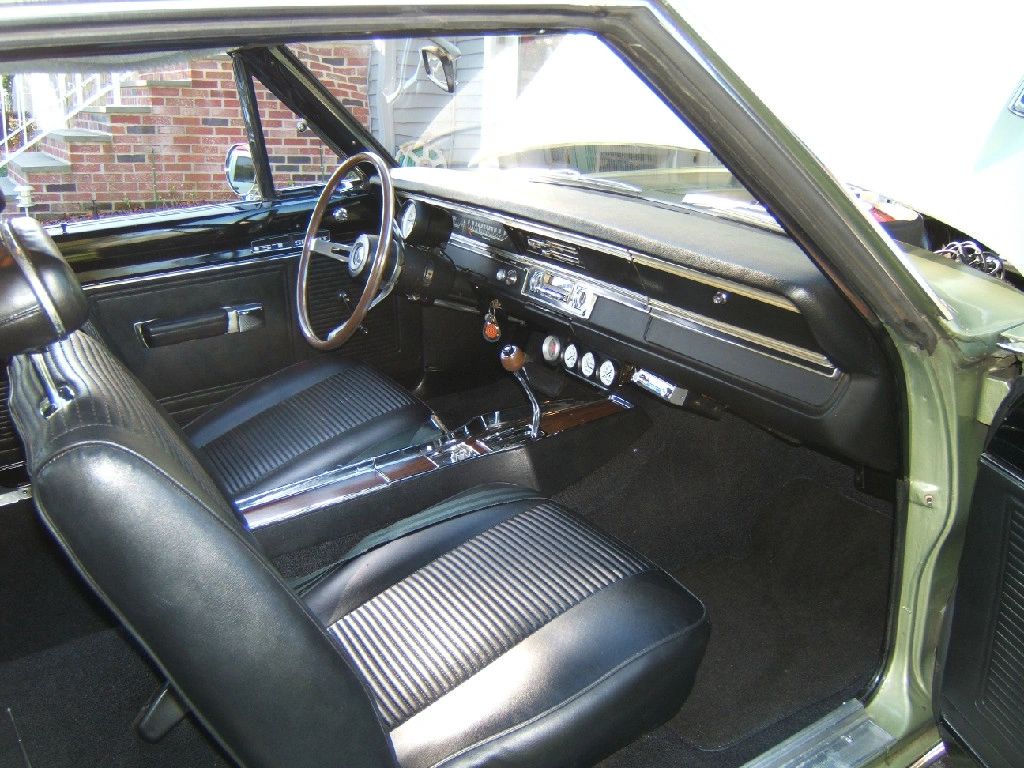 The interior pictured above is all original. The ashtray has never been used! Production numbers on GTS Darts are fairly low, especially with the big block engines. Total Dart production for all models and engine combination in 1969 was 197,685 units. See the "Production Numbers" page for the full GTS production breakdowns.


This car was driven everyday for the first ten years of its life. When I purchased it in 1979 from my uncle it was driven full-time for six months before limiting it to weekends and fair weather driving.
After pulling the engine for a complete rebuild in the winter of '82-83 it's used only for car shows and cruise nights. I average only a hundred or so miles a year now. The original Firestone Red Lines were installed back in 1990.

During the winter of 2002 the engine was removed for detailing and freshening. Current miles as of the of 2019 stands at 91,910.